Pagina 15 van 24
1966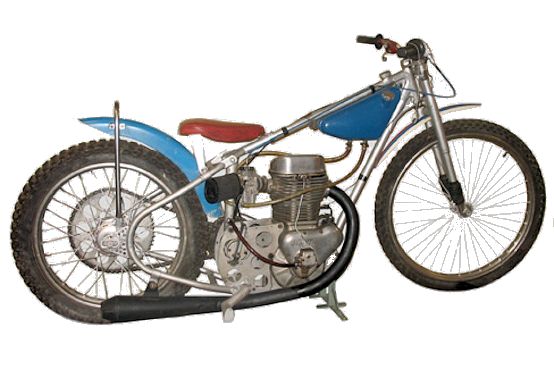 Jawa DT 500cc 890 Speedway
It was 1947 in post war Czechoslavakia to when the first real attempt at producing a speedway motor proper can be traced. A gentleman by the name of Josef Linhart started producing his own speedway motors.
Perhaps not surprisingly, he had used the only successful speedway motor of the time, the JAP, as a pattern and his own motors bore an uncanny resemblance. The Czech motors were called the JO-LI (the first two letters of Linhart's first and last name). These motors were produced for the next three years up to 1950 and are distinguishable by their bronze cylinder heads.
It was in 1950 that Jaroslav Simandl, a motorcycle racer of that time who had already dabbled in motor production bought all of Linharts equipment, castings and remaining spare parts and continued production of the JO-LI under the new name of ESO (Czech for "Ace").
In the early 1950's, Simandl's business was Nationalised, but continued to produce a 500cc speedway motor under the ESO banner right up until the acquisition of his company in 1967 by Jawa, an established Czech motorcycle manufacturer.
In the early 1960's, the ESO motor became very gradually a more common sight on the professional shale circuits and by 1965, the company had a UK concessionaire, Alec Jackson Ltd of London. Only one year after this in 1966, another speedway legend Barry Briggs became the sole UK distributor of the complete ESO machine.
By the late 1960's the ESO name had been dropped by the Jawa giant and the speedway machines now bore the most recognisable name in speedway even to the present day. The Jawa 890 was mechanically almost identical to the earlier ESO models. The two valve Jawa 890 remained virtually unbeatable for a complete decade to follow.